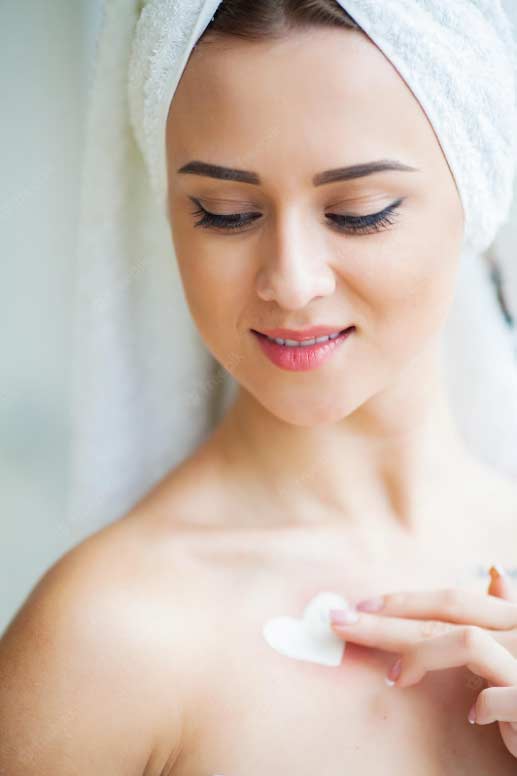 The Truth About Moisturising: How Many Times To Moisturise Your Skin
Here's how to know which moisturisers suit your skin and learn how to benefit from them.
Looking after our skin has never been more important now than ever. With our skin constantly exposed to UV rays and pollutants, it has to endure harmful impurities which can cause premature ageing, dryness, and breakouts. One of the reasons we need to moisturise is to provide an effective barrier for our skin to protect it from these harmful effects.
Our skin is a living, breathing organism that evolves and changes with time. So, while we put in the effort to choose the right types of food to replenish our body, we should also give the same attention to what we use on our skin to keep it healthy. Therefore, moisturising our skin is a crucial step of our skincare routine that we should take seriously to nourish our skin for good health.
However, not all moisturisers are created equal. A small jar of a good moisturiser can cause a dent in your pocket. Knowing whether a good moisturiser works or benefits your skin may require you to look beyond the aesthetics. Moreover, the difference between one moisturiser and the next can be confusing when you are bombarded with a myriad of moisturisers in the skincare aisle or online. So how do you choose?
You can take steps to choose the right moisturiser for your skincare routine without breaking the bank or causing you a lot of stress.
Know your skin type
Knowing your skin type is the first step in overcoming the confusion when choosing the right moisturiser for your face. Identifying if your skin is normal, dry, oily, or a combination is the basis for finding the solution for effective skincare moisturiser. You can easily check your skin type by washing your face and patting it dry. For example, if your skin feels fine and supple, you have a combination skin type. On the other hand, if your skin feels tight and dry, then you have dry skin. Another way of checking your skin is to press a clean tissue paper on your skin and observe how much oil the tissue has picked up from your face to find out if you have oily skin, especially on your T-Zone.
Once you have determined your skin type, the search to choose the best moisturiser for your skin becomes less daunting and can even be fun.
Choose the moisturiser that complements your skin type
If you have dry skin, it is important to choose a hydrating moisturiser. It pays to look for creams that are lightweight to lock in moisture. Dry skin can also benefit from heavier oil-based moisturisers, so look for ingredients such as water and glycerine, which are perfect for dry skin.
If your skin is oily, look for a non-comedogenic moisturiser for your facial skin. This can help to prevent your pores from clogging. In addition, if you have oily skin, you should be looking for a water-based moisturiser in lotion form that has a lightweight consistency. Lotions that contain water as their main ingredient are suitable for oily skin, plus they can also help control shine and give you a flawless matte finish.
On the other hand, normal skin means you notice a slight shine on your nose and forehead. You will benefit from lighter, water-based moisturisers to restore balance in this area.
If you have a combination skin type – which means your skin is generally shiny or oily on the T-Zone – you can use a water-based moisturiser that is lightweight, hydrating and not heavy in texture. It is also beneficial to use oil-free moisturisers to prevent your pores from clogging.
If you have mature skin, using a moisturiser packed with antioxidants can help reduce the signs of ageing by nourishing and replenishing the skin from the harmful effects of sun exposure. Choosing an oil-based moisturiser to preserve moisture also benefits mature skin conditions. As a result, these anti-ageing ingredients can make your skin feel plump and youthful.
After knowing your skin type and choosing the right moisturiser, what do you do next?
Quick and easy steps to moisturise your skin
First, remember always to apply your moisturiser on a clean face. This means washing your face and using your most suitable cleanser to wash all the impurities from the skin. Next, pat dry your skin with a clean, soft towel. Finally, to get the best results, moisturise your skin while it is still warm with a pea-sized lotion or cream after washing, as this will help your skin to absorb the cream or lotion more effectively.
Remember that less is more when applying your moisturisers. You don't need to apply a large quantity at a time because applying the moisturiser too heavily to your face can cause breakouts. Instead, applying moisturiser a little at a time and from the jawline is recommended, working your way up to your forehead using upward movements. Don't forget to moisturise your neck and your collarbone too.
How often should you moisturise?
Depending on your skin type, you may need to observe your skin's reaction to hydration and moisturise when you think it is necessary. There is no "one rule fits all", so deciding when to moisturise depends on your skincare routine, which in turn depends on your skin type. For example, you should moisturise twice a day if your skin is dry or if you have oily skin, moisturising once a day may be sufficient. People with sensitive or ageing skin may need to moisturise more often.
If you live in seasonal climates, your moisturising routine may also differ. How often you should moisturise your skin depends on several factors, such as the cold, dry air, how often your skin is exposed to heaters in the house and so on.
It is important to remember that the benefits of moisturising your skin will provide the important hydration and nutrients your skin needs to look healthy.
Conclusion
Whilst our bodies need nutrients from the healthy food we eat, our skin, too, needs the right moisturisers to stay healthy, glowing, and nourished. Moisturising is the most important step in our skincare routines that should not be taken lightly, especially when its benefits outweigh its disadvantages. Lack of moisturising or choosing moisturisers incompatible with your skin type can cause your skin to feel lacklustre, dry, irritable, and prone to breakouts. If you have sensitive skin, using the wrong moisturisers can lead to skin infections and other complications, so choosing the right moisturiser is crucial for your skin's health.
One way to do this is to check the ingredients in your moisturising lotions or creams to ensure that they are dermatologically tested and free from harmful ingredients such as parabens.
If you are looking for a skincare moisturiser suitable for all skin types, look no further. 16percent.co currently has two skincare ranges that are dermatologically created and tested. As part of our Essential range, our Essential Facial Creme contains ingredients our dermatologist hand-picked to hydrate, nourish, and restore balance to the skin to keep skin healthy and radiant. And the best part is that it is suitable for all skin types.